News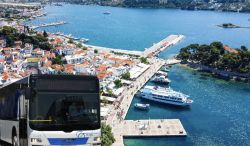 Skiathos is turning the page in the field of transport, acquiring modern buses and high quality services that are in line with an island of high quality and tourist scope, such as the mistress of the Northern Sporades, with thousands of permanent residents and hundreds of thousands of visitors annually.
The Consortium represented by the Intercity KTEL of Magnesia, Urban KTEL of Volos and AKTI IKE, today officially signed the contract for the execution of the project of small transport, as a continuation of the ratification of the tender procedure, with an annual lease, announced by the Municipality. existing legislation.
The Consortium with professionalism and consistency assumes responsibility for the transport project on the island, with the launch of modern buses, on the lines: Airport-Skiathos-Koukounaries-Aselinos-Xanemos-Evangelistria.
Standard tickets will be available in many parts of the island, in three i-box kiosks of the Consortium (along the route Skiathos – Koukounaries) with respective employees who will give information, and of course on each bus.
From Wednesday, 10 buses (urban, semi-urban-interurban type) will gradually disembark in Skiathos, on Thursday there will be test routes by the experienced staff and on Friday, July 10, the route officially starts every 15 minutes.
The price of the tickets is already predetermined based on the current legislation and is 2 euros for all destinations and 1.60 euros for the airport.
Now, a complete solution is given to the transport sector of the island and at the same time a major problem of decades is solved, in one of the most popular tourist destinations in Greece.
The vote of confidence of the Consortium on the island signals new jobs and individual job offers for various specialties.
KTEL Magnesia SA are companies of the Prefecture, which have provided for many years multilevel writing samples, which have proven their ability to provide services and have left their social footprint.
We will always listen to the needs and we are committed to continuous upgrade of all our services, as well as to undertake all the improvement changes that are deemed necessary.
We are here to support the overall effort to further promote the island, inside and outside the borders.
We are here to assist all year round for the best possible transport project.
We are here for the permanent resident, the visitor who honors the island with his presence.